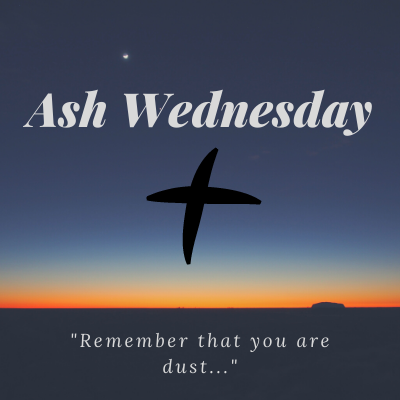 Join us for Ash Wednesday worship on Wednesday, February 17, at 7pm. Our Ash Wednesday service will include the imposition of ashes, however, in keeping with social distancing guidelines, worshippers will be provided a small container of ash with which to mark the sign of the cross on themselves and members of their families. Our other typical precautions will be in place as well, and worshippers are asked to "bring your own bread" for the celebration of Holy Communion. Join us as we begin our Lenten journey!
Included below is a Lenten greeting from our Bishop Michael Rhyne of the Allegheny Synod of the Evangelical Lutheran Church in America:
When we gather for Ash Wednesday we hear the words, "Remember you are dust, and to dust you shall return." These words remind us of the fragility and fleeting nature of our lives. We start the season of Lent being reminded that this life will end. If it were not for the love and grace of God in Jesus Christ, we would return to dust and oblivion.
This Ash Wednesday, after almost a year under the shadow of COVID-19, it may be easier for us to remember the fragility of our lives. We have seen our 'normal' turned upside down. We have learned to wear masks, worship practices have altered, for many of us our working situations have changed. As of this writing we have lost 471,000 people to this virus. That number will have increased by the time you read this. This is a time none of us expected or could have anticipated.
I have wondered if this experience of COVID hasn't changed things as much as it has revealed to us the truth of our reality. So much that we value and consider important are much more fragile and unstable than we imagine. All things are passing away.
The Good News, in this season of Lent, is that though we are dust, our Lord God breathes life into dust like us. These lives will end, but death does not have the last word over us. We belong to Jesus Christ. We were claimed by Jesus in the waters of baptism and the Holy Spirit united us to his life, death and resurrection. Because of that, because of Jesus, though we die we will live in him. Though all we know will pass away, our Lord Jesus will be forever and will bring us into his eternal life. That is Good News.
So, we look to the cross. On that cross we see the love of God in Jesus Christ. A love so strong that Jesus would not leave us to our own sin. God became flesh and lived among us. Jesus Christ walked with us, taught us, and sacrificed his body and blood to save us from eternal death. Jesus loved us so much he stopped at nothing to save us, even though that meant death on a cross. Jesus gave all, because you matter so very much to him.
In this season of Lent while we still walk under the shadow of COVID-19, we remember that our Lord Jesus is with us. Christ has already given all to save us. He is not going to abandon us now. God almighty, Jesus Christ our Lord, and the power of the Holy Spirit are at work leading and guiding us through this pandemic. This will pass.  COVID, unrest, instability, and uncertainty are not as powerful as the God who brings us and all things into being. That God in Jesus Christ loves you more than you can ever know.
Look to the cross this Lenten season. See the Lord who gave himself to save you. See the Lord who shows us the great love of God. That Jesus is the one who promises to be with us until the end of the age. He is the one who no matter what comes at us nothing can separate us from him and from his love.
May you have a blessed Lent,
Bishop Michael Rhyne
Ash Wednesday, 2021